Staging a Home for a Quick Sale: 10 Things You Need to Know
If you want your home to sell quickly and for top dollar, you need to make it look its best. It is not always easy to look at your home through the eyes of a buyer, but doing so is absolutely essential if you want a fast and profitable sale.
Staging a home for a quick sale is not rocket science, but it can be a bit tricky. Here are 10 things you need to know about the home staging process.
1. Staging alone will not sell your home. Staging is a good first start, but you still need to price the home properly and advertise it well. Even the best staging will not sell your home on its own.
2. Curb appeal and staging are tightly entwined. You can think of staging as an indoor form of curb appeal. Curb appeal makes the outside of your home look its best, while staging does the same for the home's interior.
3. Neutral colors are best. If you need to repaint your home as part of the staging process, stick to neutral colors as much as possible. You might love that deep shade of red in the bedroom, but buyers are unlikely to feel the same.
4. You do not need a pro to stage your home like a professional, but we highly recommend it. Find a Home Stager Now While hiring a staging professional can speed things along, you can do it on your own and pocket the savings.
5. Some restaging may be required. Even if your home is fully staged, you may need to do some sprucing up before each showing and in the lead up to your next open house.
6. Clutter is a killer. Staging your home is hard work, but clutter can make it all for naught. Before you move a single piece of furniture or paint a single wall, clear out the clutter and store it safely until the sale is done.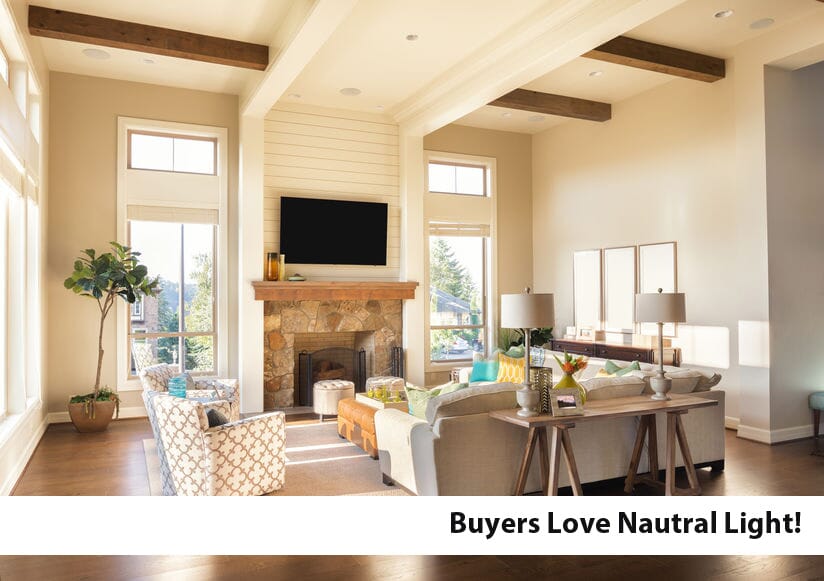 7. Buyers love natural light. Letting the light in is a key part of staging, so pay close attention to your blinds, curtains and window treatments. It may make sense to have your windows professionally cleaned for a bright and shiny appearance.
8. Furniture arrangement can make a small room look larger, or a big one appear cozier. Experiment with different arrangements of furniture and home décor until you get just what you (and buyers) are looking for.
9. Do your homework. If you want to know what buyers are looking for, consider attending a few open houses. Hanging out with would-be buyers can be a real eye-opener, and the knowledge you gain can help you in your staging activities.
10. Small rooms may need extra attention. Making a small bedroom look great or staging a tiny bathroom can be a challenge. You may need to experiment with different décor and furnishings to make those small spaces look their best.
Staging a home for a quick sale is a big part of the real estate business. Experienced real estate agents often work with professional home stagers to help their clients' properties sell more quickly, but you do not have to hire a pro to make your own home look like a million bucks. The 10 tips listed above can help you create a home buyers will love, so you can spend your time fielding offers instead of attending endless open houses.